How to use Bootstrap Datepicker in Laravel?
February 18, 2023
Category :

Laravel
I am going to explain you example of laravel bootstrap datepicker example. step by step explain how to use bootstrap datepicker in laravel. We will use bootstrap 4 datepicker laravel example. this example will help you laravel bootstrap 4 datepicker example.
In this article, we will deal with implement bootstrap 4 datepicker in laravel 5, laravel 6, laravel 7, laravel 8, laravel 9 and laravel 10 project.
datepicker is nothing related to laravel, it is a separated jquery library. you can simply use datepicker in laravel as you use on another framework or code php project. In this example i use bootstrap-datepicker.js library for datepicker.
You can see bellow layout: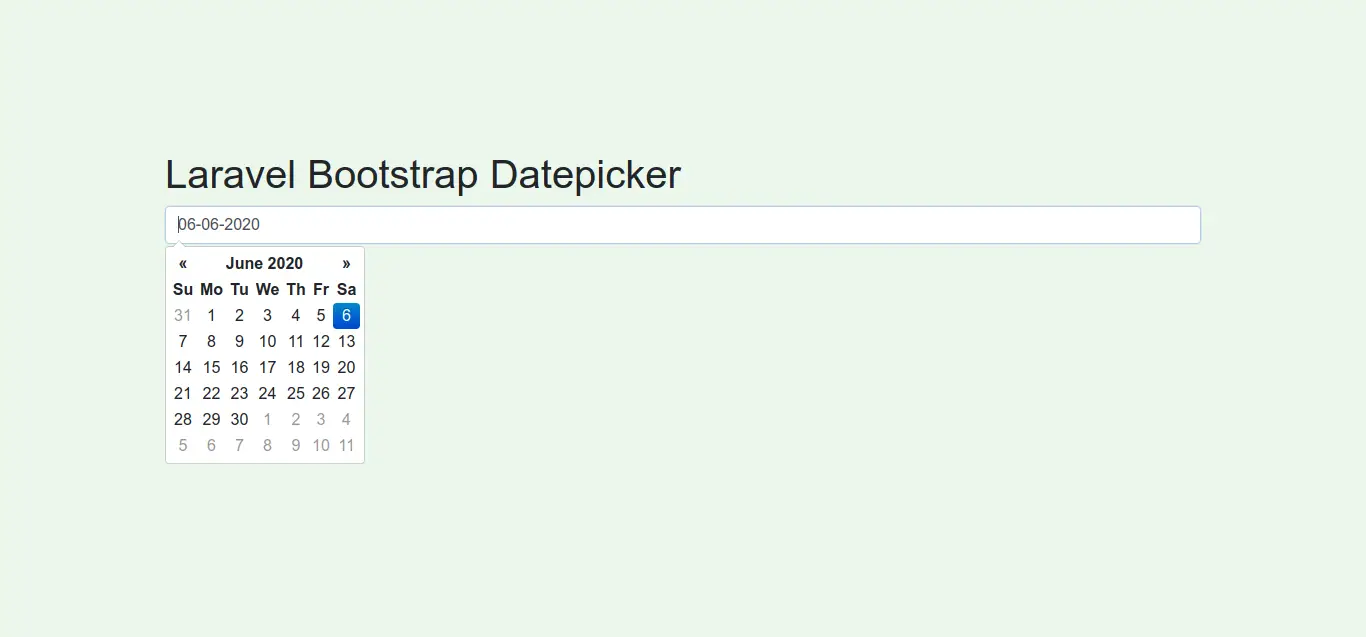 resources/views/welcome.blade.php
<!DOCTYPE html>

<html>

<head>

  <title>Laravel Bootstrap Datepicker</title>

  <link rel="stylesheet" href="https://cdnjs.cloudflare.com/ajax/libs/twitter-bootstrap/4.5.0/css/bootstrap.min.css"/>

  <link href="https://cdnjs.cloudflare.com/ajax/libs/bootstrap-datepicker/1.5.0/css/bootstrap-datepicker.css" rel="stylesheet">

  <script src="http://ajax.googleapis.com/ajax/libs/jquery/1.9.1/jquery.js"></script>

  <script src="https://cdnjs.cloudflare.com/ajax/libs/bootstrap-datepicker/1.5.0/js/bootstrap-datepicker.js"></script>

</head>

  

<body>

   

<div class="container">

    <h1>Laravel Bootstrap Datepicker</h1>

    <input class="date form-control" type="text">

</div>

  

<script type="text/javascript">

    $('.date').datepicker({  

       format: 'mm-dd-yyyy'

     });  

</script> 

  

</body>

  

</html>
Now you can run and check.
I hope it can help you...

Hardik Savani
I'm a full-stack developer, entrepreneur and owner of Aatman Infotech. I live in India and I love to write tutorials and tips that can help to other artisan. I am a big fan of PHP, Laravel, Angular, Vue, Node, Javascript, JQuery, Codeigniter and Bootstrap from the early stage. I believe in Hardworking and Consistency.