5 Key Ideas for Beating Procrastination: A Successful Student Guide
September 5, 2020
Category :

Guest Post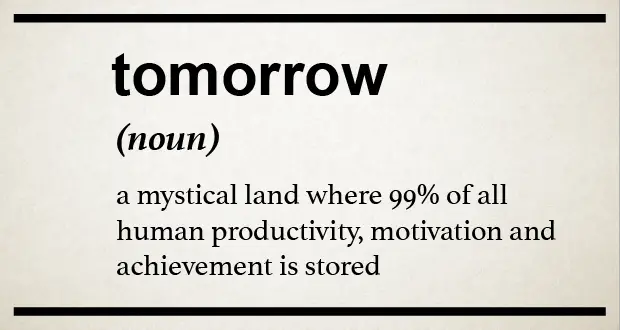 By definition, procrastination is the action of delaying tasks, often unknowingly. Sure you've never procrastinated? Remember the times you went for a snack before or during doing homework and stuck in the kitchen for an hour. Situations like this are common examples of the term.
While snacks are important, constantly delaying valuable tasks may lead to missing deadlines. If not, you will have a hysterical last day before the deadline when you have to complete several assignments at once.
It's possible to beat procrastination, though, and we have the best ideas for that!
Start with Simple Goals
The ultimate idea for beating procrastination is to set small goals. Sometimes we delay stuff just because it seems too much to finish in one sitting. As a student, you must have a lot of such tasks, but you can split them.
Example: you have three days for a writing assignment. That's quite a tough deadline, but here's how you split the task:
Day 1: research, gather all necessary materials for your project, make notes;

Day 2: create an outline, write your thesis and make a rough draft of what you're going to include into the work;

Day 3: write the clean version of the paper, proofread it several times, check for mistakes.
That's it, you've finished an assignment without panicking last minute.
Organize Your Schedule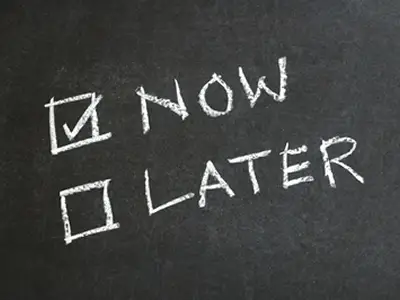 Some people think if they have a schedule, they put themselves into a cage, losing independence. However, you don't have to stick to it minute to minute. Use it as a guide to know how much time you will have to devote to your studies.
Here's a simple idea for scheduling your study assignments, homework, etc.:
1. Make a list of all the tasks you have for the week;
2. Organize them according to importance;
3. Start with the first one and focus on it alone until you finish;
4. Now you have the second most important task. Do it;
5. By the end of the day, reorganize your list and add new tasks if any;
6. Perform the same algorithm every day, limiting yourself to, say, 2-4 tasks a day.
Also, there are a lot of applications that will help you build a schedule and beat procrastination with reminders. There are apps that make schedule a game, set off alarms when you procrastinate too much, etc.
However, sometimes the essay tasks you get are too difficult or there's too many of them. If you need help and are ready to pay for essay writing services, get online asap. Tons of sources can help you by finding a talented writer suitable for your essay. You will find the information on the conditions, policies, and rates on the official company website. Thousands of students use such services and learn writing from them, making their life easier.
Eliminate Major Distractions
Some of the main distractions are:
• Social media;
• TV;
• Physiological needs;
• People.
You have to get rid of them before you sit down to work.
To shut off social media, you can set alarms to make sure you don't get distracted for too long. There are also apps that will temporarily restrict your access to SNS. However, the best way is to shut off your phone for the time of study. Similar tips work well for eliminating TV as a distraction.
As to your physiological needs, it's better to take care of them before you get to study time. Listen to your body to make sure you feel convenient while working. For example, some people learn better when they're hungry, while others have to eat beforehand.
People are more difficult to, well, eliminate (as disruptions). The best way besides just asking them to leave you alone for some time may be listening to music. If lyrics or beats distract you as well, try classical music. They say it changes our brain chemistry to the better as well!
Ask a Friend to Join
Finding yourself a study buddy is another great idea for beating procrastination. However, there's a thin line between studying together and falling into the pit of "we'll do that later".
Here are some tips on studying with a friend:
• Divide the tasks.
Create a common schedule and split the tasks evenly. You can research different topics for different subjects. Maybe one of you is better at math and the other one is great at physics, you get the idea.
• Check each other.
If you have to memorize stuff, make sure you check each other. Also, if you have a gap in a topic, you can ask your buddy to explain it to you, and vice versa.
• Teach each other.
To improve your understanding of a certain topic, try explaining it to your buddy. It may be awkward at first, but you'll get better with time.
• Take advantage of technology.
If you can't meet up often, use websites and applications that allow document sharing and chatting. Literally any messenger is just fine, but try to find a more specialized service.
Strengthen Your New Habits
A new habit is formed in roughly 21 days, give or take. If you're sustainable in your beginnings, you'll be able to beat procrastination once and forever. There's always the temptation to make more breaks than necessary or delay a task. But if you use these ideas and develop useful habits, it will be much easier to finish the to-do list first.

Hardik Savani
I'm a full-stack developer, entrepreneur and owner of Aatman Infotech. I live in India and I love to write tutorials and tips that can help to other artisan. I am a big fan of PHP, Laravel, Angular, Vue, Node, Javascript, JQuery, Codeigniter and Bootstrap from the early stage. I believe in Hardworking and Consistency.