Textarea Auto Height Based on Content Jquery Example
September 5, 2020
Category :

jQuery
In this example, you will learn textarea auto height based on content jquery. if you want to see example of resize textarea to fit content then you are a right place. you can see auto resize textarea jquery. step by step explain auto expand textarea jquery. follow bellow step for auto adjust textarea height jquery.
If you need to set textarea auto height based on content using jquery then i will help you how to auto resize height of textarea in jquery. i will give you two examples of auto adjust textarea height using jquery.
So, let's see bellow preview and examples:
Preview: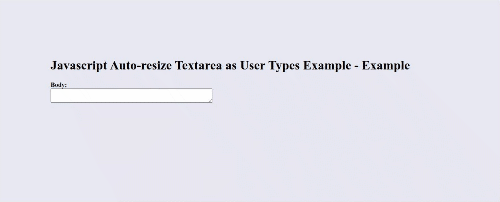 Example 1:
<!DOCTYPE html>

<html>

<head>

    <title>Textarea Auto Height Based on Content Jquery</title>

    <script src="https://code.jquery.com/jquery-3.4.1.min.js"></script>

</head>

<body>

  

<h1>Textarea Auto Height Based on Content Jquery Example - ItSolutionStuff.com</h1>

  

<strong>Body:</strong>

<br/>

<textarea id="body" style="width: 400px;"></textarea>

   

<script type="text/javascript">

    $('#body').on('input', function () { 

        this.style.height = 'auto'; 

  

        this.style.height = (this.scrollHeight) + 'px'; 

    }); 

</script>

  

</body>

</html>
Example 2:
<!DOCTYPE html>

<html>

<head>

    <title>Javascript Auto-resize Textarea as User Types Example</title>

</head>

<body>

  

<h1>Javascript Auto-resize Textarea as User Types Example - ItSolutionStuff.com</h1>

  

<strong>Body:</strong>

<br/>

<textarea id="body" style="width: 400px;"></textarea>

  

<script type="text/javascript">

    textarea = document.querySelector("#body"); 

    textarea.addEventListener('input', autoResize, false); 

  

    function autoResize() { 

        this.style.height = 'auto'; 

        this.style.height = this.scrollHeight + 'px'; 

    }

</script>

  

</body>

</html>
I hope it can help you...

Hardik Savani
I'm a full-stack developer, entrepreneur and owner of Aatman Infotech. I live in India and I love to write tutorials and tips that can help to other artisan. I am a big fan of PHP, Laravel, Angular, Vue, Node, Javascript, JQuery, Codeigniter and Bootstrap from the early stage. I believe in Hardworking and Consistency.