What Parental Controls are Available for iPhone?
September 11, 2020
Category :

Guest Post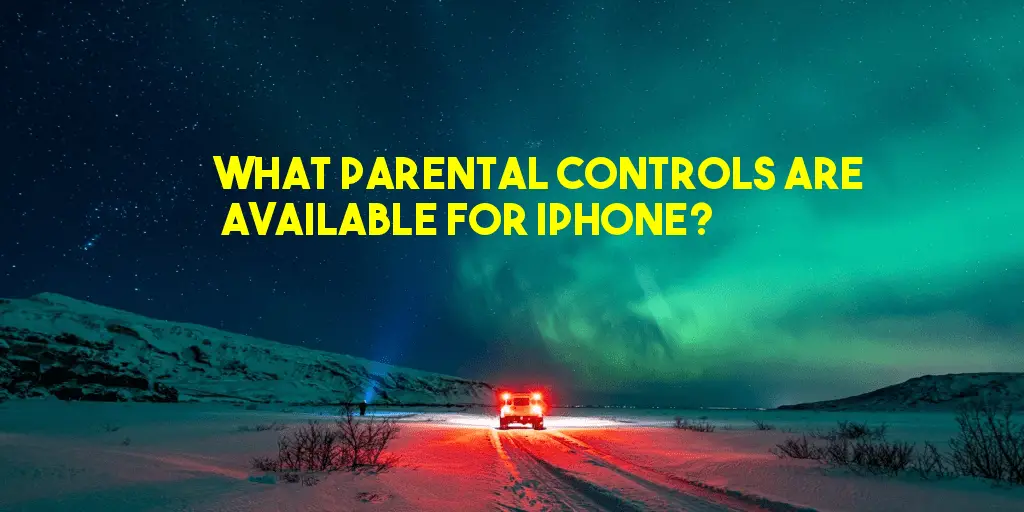 Introduction
If you have given your child an iPhone, there are inbuilt parental controls that one can use for managing the content, apps or features that a kid has access to. All that one needs to do is toggle certain settings. This comes in handy when one does not want to install a parental app for supervision or control.
When it comes to enabling restrictions in the settings of an iPhone, all that one needs to do are the following:
One should start by creating a pass-code. One would need to come up with a clever pass-code that would help prevent children from turning up everything back on.

One can toggle the settings as per a child's temperament or age as well as per one's personal preferences.

These changes can help children not hear or see anything that is inappropriate or change anything that they should not change. These settings can also help prevent in-app purchases.
There are several functions that the Restrictions segment offers such as:
One can set restrictions for certain apps.

Set restrictions on content types or as per rating of certain apps or websites.

Control device functions.

Toggle with privacy settings.

Usage of cellular data.
How to Enable Restrictions?
Setting Screen Time
Screen time is an excellent way to ensure that children spend a limited time on the screen, either using apps or watching videos on their mobile or smartphone devices, much like the best parental control app for iPhone in 2020.
Whether one has an iPad or an iPhone, there are ways of restricting access to the content of different kinds. To do so one needs to:
Launch or click on Settings on the Home screen.

Tap on Screen Time; one can choose to turn it on.

There are privacy and content restrictions that one can place on Screen Time; this helps to limit or block out certain features or apps.

One can restrict settings on iPad or iPhone for blocking out downloads purchases, explicit content as well as the privacy.
How to Set Privacy and Content Restrictions?
One can tap on Screen time to make the following changes:
They can choose to set a device as mine or my child's.
One can also set a pass-code for their account; this option comes under Screen Time settings as well.
One can make changes with the pass-code settings by tapping on the need to turn off or change pass-code for screen time, authenticating the changes for Touch Id or Face ID.
How to Prevent Purchases in the App Store or iTunes?
This is another handy feature that iOS devices come with. Not only can one restrict the deletion or installation of apps, but one can also prevent children from making purchases in app stores. This can be done with the following steps:
Tap on settings and then find the section for Screen Time.

Here one can visit privacy and content restrictions and enter applicable pass-code.

Here the option for App Store purchases or iTunes comes up.

One can choose a setting to set for Don't Allow.
One can also change password settings under Book Store or App Store. There are options one can select from such as Don't Require or Always Require.
Restrictions around Built-In Apps
This is another handy aspect where one can set certain changes. One can restrict the use of certain built-in features or apps; for instance, one can hide it temporarily from Home Screen when it comes to built-in applications. To make such changes one needs to do the following steps:
Visit Settings and Screen Time under it.

Tap on the content and privacy restrictions section.

Enter a pass-code for Screen Time.

Tap on allowed apps.

Select apps you wish to allow.
How to Prevent Content Ratings or Explicit Content from Showing?
This is another aspect that concerns parents when they hand over an iOS device to their children. In order to restrict certain apps from being downloaded or restrict certain content one can do the following:
Tap on Screen Time and visit Settings.

Here one can find Content Restrictions under privacy and content settings.

One can choose settings as per Allowed Store Content or for the different features.

One can choose ratings for the content of a certain region or country.

One can prevent playback of certain music videos, music, news and podcast that show explicit content.

When it comes to apps, books, TV shows, movies, one can prevent certain streaming as per ratings.
Restrictions on Web Content
This is another handy feature for parents to explore. One can filter our website content to ensure that adult content in apps or in Safari is not shown on a kid's device. To do so one needs to follow the steps below:
Visit Settings under Screen Time.

Enter pass-code under content and privacy restrictions.

Find the criterion of Web Content in this segment.

One can choose from options like unrestricted access, allowed websites or limit adult websites.
Other Options
One can also restrict web searches on Siri. In order to do so, one can visit Screen Time under Settings; here one would find Content Restrictions under which one can choose settings. These include prevent a web search or prevent explicit language from showing up in Siri.
Game Center is a lot of fun but it is important that teenagers or young adults download or play appropriate games. The settings come under Content Restrictions and Game Center. Here one can set controls with regard to multiplayer games, screen recording as well as adding friends.
Conclusion
The above settings and configuration changes are ways that iOS devices can be configured, especially when they are being used by youngsters. Once these settings are configured and restrictions put in place, the devices become safer platforms for kids to play their games, browse online and use different apps. The inherent settings and changes go a long way to make the devices secure for usage, helping young minds to find the content they love or the apps they want to use and prevent explicit content, inappropriate language, videos, and shows from being downloaded or shown on such devices.

Hardik Savani
I'm a full-stack developer, entrepreneur and owner of Aatman Infotech. I live in India and I love to write tutorials and tips that can help to other artisan. I am a big fan of PHP, Laravel, Angular, Vue, Node, Javascript, JQuery, Codeigniter and Bootstrap from the early stage. I believe in Hardworking and Consistency.