The Cost of Hiring an App Developer: International Overview
December 2, 2022
Category :

Guest Post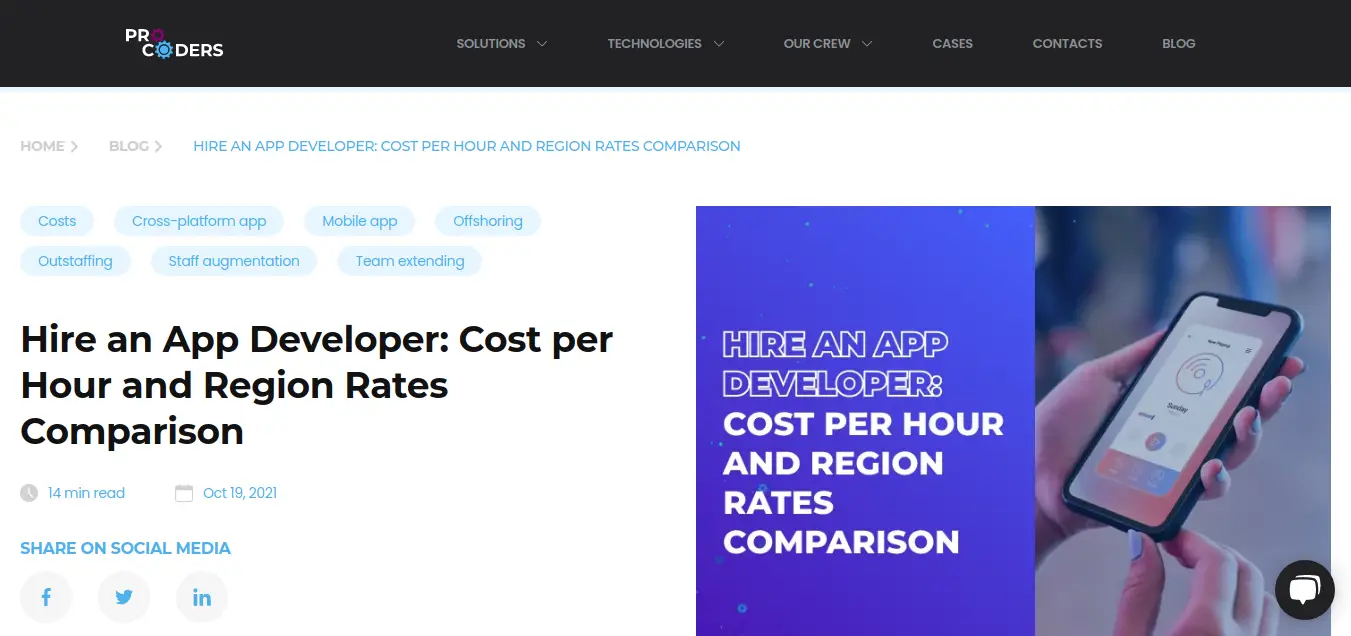 If you are building your own app, you'll have a lot of questions about the process. How long will it take? What will I need? And, of course, how much does it cost to hire an app developer? The cost of hiring app developer (s) for your business can determine whether or not the project goes ahead at all.
Nothing is set in stone when it comes to all the costs you'll face during an app project. You may encounter new technology, a pricey bug fix, or a competitor that can affect the overall costs and break your budget at any moment, which is why you should keep your hire-an-app-developer-cost as low as possible.
In this article, we'll break down how much it should cost to hire an app developer, dig into the mobile app developer cost per hour, and look at the many ways you can save money on your app development project.
What impacts the cost of hiring app developer (s) for your business?
Before we get into the average mobile app development hourly rate, we should look at all the factors that will impact the cost of your app developers. Location is a significant factor. If you hire app developers in Silicon Valley, for example, you have to pay a premium. Not because they are more skilled than other developers, but because the competition is really stiff and senior developers command high prices.
Big tech companies can afford to pay senior developers top dollar. The success of their business depends on their teams, so they offer competitive packages that include paid vacation days, medical insurance and even equity in the company.
That's why many successful start-ups and tech companies start out by hiring developer teams offshore. There are many highly skilled developers in other countries, available at a fraction of the price. While it comes with disadvantages as well as advantages, it's one of the best ways to hire.
The most affordable countries for offshoring your app developers
Here are some of the countries that offer affordable developers with great skill levels.
China
China produces millions of tech graduates every year, which is why a lot of people outsource their mobile app projects to China. However, less than 10% of Chinese people speak English. The country also has very strict IP laws, and it can be difficult to work with a Chinese team. The average hourly rate for a mobile developer is between $18-40 per hour.
Poland
Poland has some of this most skilled Java developers in the world, and about a third of the population speaks English as a second language. However, it can be hard for US companies to work within the Polish time zone. Developers charge between $25-$50.
Ukraine
Ukraine really focuses on IT education, and they have more C++ programmers than anywhere else in the world. While not many Ukrainians speak English, about 80% of the IT community speaks excellent English. The Ukraine time zone overlaps with both US and UK time zones. Developers earn between $20 - $50 per hour, depending on their seniority.
India
Almost everyone in India speaks English, and the country has a strong focus on producing STEM graduates. They are often the favorite for companies focusing on mobile app development. Developers will charge between $15-40 per hour.
Argentina
Argentina offers free education, which means that pursuing a Computer Science degree is becoming very common among young Argentinians. The average developer earns $30-$50 per hour. However, the GMT-3 time zone doesn't always suit clients.
Philippines
Most of the population of the Philippines speak English, and their currency is very affordable for most Western countries. It's one of the most affordable countries to outsource your mobile app development too, but their developers aren't as skilled at complex projects as the Ukraine or China. Expect to pay between $18-40 per hour.
Now that we've looked at the cost of hiring app developer (s) across other countries, you may be wondering how much it would cost to hire an app developer in the US or the UK. In the UK, developers earn between $75 - $100. In the United States, the same skill level can earn $90 - $120 per hour. Clearly, offshoring is the best way to access great developers quickly and affordably.

Hardik Savani
I'm a full-stack developer, entrepreneur and owner of Aatman Infotech. I live in India and I love to write tutorials and tips that can help to other artisan. I am a big fan of PHP, Laravel, Angular, Vue, Node, Javascript, JQuery, Codeigniter and Bootstrap from the early stage. I believe in Hardworking and Consistency.